Prestigious project at the MuCEM – Marseilles (13): 3,800 sq. metres
Museum of European and Mediterranean Civilisation, Marseille (13)
Close to the Mediterranean, on the former J4 port jetty in Marseille, this building with a square base, 72 metres on each side, covered with a concrete mesh, houses 3,800 m² of exhibition space retracing the history, culture and art of Europe and the Mediterranean from prehistory to the present day.
The architect Rudy Ricciotti, selected in 2004 to design one of the MuCEM's three sites, was behind the construction.
The building site
With over a million visitors a year, the MuCEM hosts permanent and temporary exhibitions. These exhibitions and retrospectives are accompanied by conferences, shows and screenings. All these events help to address the major issues of the day in the Mediterranean basin. As a museum of society, the Mucem is devoted to the cultural anthropology of European and Mediterranean societies.
The museum comprises three separate sites: the J4, Fort Saint-Jean and the Conservation and Resource Centre. The oldest building is Fort Saint-Jean, built in 1671 and incorporated into the MuCEM in 2013. Next comes the Conservation and Resource Centre, a modern 13,000 m² building designed like a large flat. It comprises 4 areas open to the public: an artefact consultation room, a reading room, an exhibition room and storerooms.
Finally comes the building that concerns our site: J4. Why J4? Quite simply because it was built on the former J4 port mole. It's a building with a square base, 72 metres on each side, encased in a fine concrete mesh. It houses two large exhibition halls of around 3,800 m², which have to be fitted out and refurbished for each new exhibition. And this is where Design Parquet's expertise comes in.
Site description
Client: Ministry of Culture
Architect: Rudy Ricciotti / Roland Carta
Distributor : Panofrance Marseille
Fitter : Parquets d'Hier et d'Aujourd'hui
A prestigious project with 3,800 m² of parquet flooring:
The project was managed by the Ministry of Culture and architects Rudy Ricciotti/Roland Carta (Bandol, 83/Marseille, 13). The project also involved our distributor Panofrance Marseille (Marseille, 13) and the installer Parquets d'Hier et d'Aujourd'hui (Hyères, 83), who were able to advise us and make the project possible.
The project involved 3,800 m² of special oak parquet, measuring 37 x 420 x 1,800 mm. A load-bearing parquet floor designed with removable panels: these were the essential elements on which the specifications were based.
The choice of parquet
Rustic oak parquet was the obvious choice. Oak is very hard-wearing and easy to renovate, an important criterion for this project.
We chose Loft Pro semi-massive parquet for several technical reasons. Firstly, the floor is load-bearing, so the solidity of the boards had to be reinforced depending on the exposure. Secondly, the surface of the parquet must be resistant and capable of being renovated in the event of damage or impact.
Loft Pro parquet has a 7mm top layer of oak. This top layer is then glued to a base of 30mm thick birch plywood.
Each strip is made up of 3 strips of 140 mm parquet, assembled by tongue and groove gluing and stapling. This meets the initial demand for a removable parquet floor with an atypical width of 420 mm.
The resulting panels are made up of 3 plies in width and assembled at mid-timber (lengthwise and crosswise). All these operations put together give panels with dimensions of 37 x 420 x 1800 mm.
Once installed on joists, all the panels are removable every other row. This allows access to occasional fittings and to the technical room under the exhibitions.
Removable panels to access the technical room under the exhibitions
These demountable panels provide the removable flooring needed to access the technical room and fittings under the exhibitions, which change regularly. This technical room under the floor provides the modularity that is essential for fitting out the various temporary exhibitions. The floor designed in this way helps to ensure the smooth operation of the electrical components and visitor safety.
A floor that can withstand severe stress
One of the most important features of this project is that the flooring has to withstand severe stress, and the same applies to its finish.
For example, a fragment of the Berlin Wall weighing over 2 tonnes was displayed at an exhibition. The resistance of our parquet is therefore put to the test on certain exhibitions, and the superior appearance of the parquet must remain just as resistant.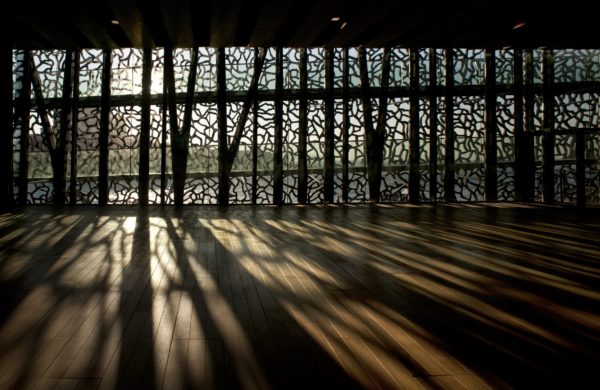 Projects realised
3800 m² of oak-laminated panels over three floors
Load-bearing floor
Removable panels

The product Design Parquet
Oak Rustic Grades of oak
Oak veneered panels 37 x 420 x 1800 mm
Oak top layer: 7 mm on 30 mm birch plywood
Board construction :
3 strips of 140 mm tongue and groove glued and stapled together.
Initial requirement: removable parquet with an atypical width of 420 mm.
Assembly: Panels assembled at half-timber (one long and one end). After installation, one panel in two is removable for occasional fitting.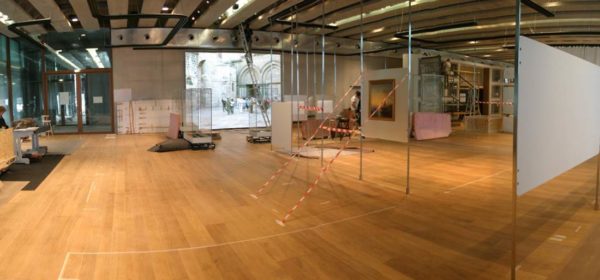 A specific installation technique
This site is equipped with a specific type of installation: laying on bridging joists with levelling feet. The parquet was finished on site with two coats of Solid'Oil (a Blanchon product).
Type of installation: on joists, levelled with blocks.
Finish: two coats of Solid'Oil (Blanchon)
Tailor-made for a unique project
With its extraordinary thickness and unusual width, this parquet can withstand heavier loads than conventional parquet. The innovative solution for assembling the boards allows for mobility, making it adaptable to all types of temporary exhibition. Blanchon's Solid'Oil finish is not harmful to the environment and is designed to withstand heavy traffic. In all these respects, the parquet meets the needs of an exceptional and prestigious site.